International news
1. Citizenship law in India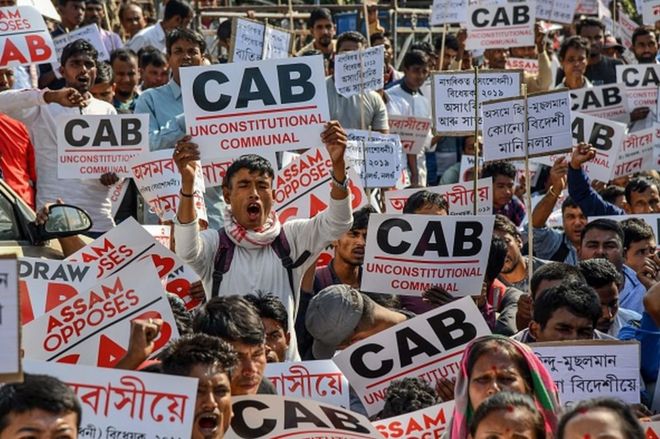 India's parliament has passed the Citizenship Amendment Act (CAA) on 11 December 2019, and this has amended the 64-year-old Indian Citizenship law, which currently prohibits illegal migrants from becoming Indian citizens.
CAA creates an expedited path to citizenship for migrants from three countries — Pakistan, Bangladesh and Afghanistan — who illegally entered India by 2014, provided they belong to six religions. The religions are Hinduism, Buddhism, Christianity, Sikhism, Jainism and Zoroastrianism. Notably absent from the list: Islam, the religion practiced by about 200 million of India's more than 1.3 billion people, according to The Washington Post.
The Indian government says the law is a humanitarian method to tackle the problems faced by the religious minorities in the three neighbouring countries. Such communities have faced difficulties in the above-mentioned countries, which are all Muslim-majority nations.
According to BBC news, opponents of the bill say the law is exclusionary and violates the secular principles enshrined in the constitution. The constitution prohibits religious discrimination against its citizens, and guarantees all persons equality before the law and equal protection of the law.
Malaysian Prime Minister Mahathir Mohamad has criticised CAA which seems to be discriminatory against Muslims.
"I am sorry to see that India, which claims to be a secular state now is taking action to deprive some Muslims of their citizenship… People are dying because of this law," he said.
However, India rejected this remark and stated that it's factually inaccurate.
Local news
1. Government will establish Malaysian Media Council
The Deputy Minister of Communications and Multimedia Eddin Syazlee Shith announced that the Cabinet has agreed in principle to establish the Malaysian Media Council. 
According to Free Malaysia Today, the Malaysian Media Council has been proposed as a self-regulatory body that can set high standards for the media community to help build and maintain public confidence in the industry and to act as an arbitration body between the people and the media for the benefit of all Malaysians. It also safeguards the welfare of media practitioners in the country. 
In another matter, Mr. Shith also warned against circulating inaccurate information on social media about the flood situation affecting Johor, Pahang and Melaka because that would cause unnecessary worry among the public. He advised to keep abreast with the news released by official government media such as Bernama and RTM.
Establishment of this particular council was promised in Pakatan Harapan's manifesto in GE14. Gerakan Media Merdeka (Geramm) welcomed this decision and Malaysia's improved press freedom rankings but highlighted challenges that the media faced under the Harapan administration.
"Self-regulation based on a journalism code of ethics should be the catalyst towards a new media landscape in a new Malaysia," said Geramm.
2. Malaysian students among Hong Kong international students facing fear and rebellion
At a recent Q&A session organised by local students involved in the protest movement for overseas HKU students, it is said that some international students were planning to leave Hong Kong. It is speculated that this is because the protest has lasted for too long. 
Malaysian student Celia Cheng's (pseudonym) first semester in HK began with being tear-gassed outside parliament and ended with her evacuation from campus. She said she supported the cause and was curious about the protests, but did not tell her family about her participation,  because they see the protests as "useless" and support China as a strong economic power. Besides, she said if her family does not allow her to go back to Hong Kong, she might need to defer her studies. 
In fact, many exchange students were also called back by their home countries and institutions, while some students from mainland China at CUHK were evacuated in a police boat.
In an effort to help with the situation, Taiwan's education ministry announced any students fleeing the HK protests could register with Taiwanese universities to continue their studies, according to Malay Mail.
3. First clinic in Malaysia to address the healthcare needs of refugees
On Dec 19, the Qatar Fund For Development (QFFD) humanitarian clinic was officially launched and it's the first clinic specially for refugees in Malaysia. The clinic located in Ampang was launched by Qatar Charity (QC) and Yayasan Kebajikan Negara (YKN).
In a press conference speech, YKN CEO Datin Paduka Che Asmah Ibrahim hopes that with this clinic, it can prevent disease complications and avoid overcrowding at government hospitals. It also aims to effectively address potential public health problems such as disease outbreaks.
According to CodeBlue, in the next three years, another four clinics offering primary health care services to refugees will be opened in various locations in peninsular Malaysia. The project will be run by medical relief organisations — Mercy Malaysia, Islamic Medical Association of Malaysia, and Malaysian Relief Agency — with support from the United Nations Commissioner for Refugees (UNHCR).
There are over 180,000 refugees and asylum seekers registered with the United Nations High Commissioner For Refugees (UNHCR) in Kuala Lumpur, with many more unregistered according to The Star.
This project is designed to reinforce UNHCR services by bringing healthcare to refugees who are unable to seek the care needed due to various circumstances such as being bedridden, poverty, lack of transportation and lack of knowledge.
4. Sarawak Union tells workers to file claim if employers do not provide free meals and housing
In light with the rise of minimum monthly wages to RM1,200 in major towns under 57 city and municipality councils in 2020, a union leader advised coffee shop workers to file claims for constructive dismissal if free meals and accommodation are to be stopped by their employers.
Sarawak Bank Employees Union (SBEU) chief executive officer Andrew Lo was responding to a statement made by the Kuching Coffeeshop and Restaurant Owners Association that their members will stop providing accommodation and meals for their workers, effective next year, following the increase in the minimum wage.
"Stopping existing accommodations and meals is to existing workers is a clear breach of contract… Those business that cannot afford to pay the minimum wage have no business to be in business and should close shop," Lo further stated.
The Human Resources Ministry said the federal government had made a decision in increasing the minimum monthly wages on December 18 and this would take effect from January 1, 2020 for all employers.
"MOHR had said the minimum wage rate would continue to be reviewed to ensure it was in line with current needs and in line with the objective of achieving a minimum wage of RM1,500 a month in first five years of Pakatan Harapan's administration," as stated in Malay Mail.
An increase of minimum wages may be good news for employees in Malaysia but that doesn't mean that their basic labour rights (as stated in their contracts) should be neglected. Balance should be struck between the employers especially those Small and Medium Enterprises and employees.
5. Government to submit child rights report to the United Nation next year
The Malaysia government is going to submit another report to the United Nations Convention on the Rights of the Child (UNCRC) committee in 2020. The last report was submitted 13 years ago.
Hannah Yeoh, the Deputy Women, Family and Community Development Minister, said the ministry is completing the report's final draft which also involves cooperation from other ministries.
According to The Malaysian Reserve, Malaysia is obligated to report to the UNCRC committee every five years as the government ratified the CRC in 1995. The CRC is an international human rights treaty which articulates the rights of children and is the most widely ratified human rights treaty in the world.
Besides of the report, the Women, Family and Community Development Ministry (KPWKM) will focus on increasing number of child protection officers from the current 280 to 1,500 next year to handle abused and abandoned children.
The ministry is also planning to establish a specialised children's agency to enforce and roll out developmental plans for children.